Characteristics
● Light weight and long service life.
● Compatible with all kinds of logistics equipment during the use process.
● Effective working temperature is -25 ° C -40 ° C.
● Stackable storage, saving space.
● It is made of anti-impact modified PP, which is resistant to oil, acid and alkali, and has low conveying noise.
performance
● The plug-in turnover box is based on the standardization, unitization and specialization of logistics containers, and aims to save costs and improve efficiency, and plays a decisive role in the internal logistics of the enterprise.
● All sizes of plug-in totes are obtained through rigorous mathematical calculations. They can be used in combination with standard logistics equipment and can be stacked neatly and accurately. It is the basic unit for standardization and specialization of logistics containers.
● The size error of pluggable turnover box is ±2%, the weight error is ±2%, the sidewall deformation rate is not more than 1.5%, the plane deformation of the bottom of the box is not more than 3mm, and the diagonal change rate of the box is not more than 1.5%. The range allowed by the standard.
Detail map
● Dustproof, pressure proof, and improved stacking capacity
● Positioning card holder
● The slider can be labeled and printed LOGO.
● Stranded closed box cover for added rigidity.
● The lid is reinforced to increase the load.
● The inner wall is smooth and easy to clean.
● Equipped with a transparent label for easy identification.
● Locks ensure safety and prevent loss.
● Logo design, which can identify the material and production date.
● The ergonomic design of the handle makes it easy to handle and easy to operate.
● Arc box corners to avoid handling scratches.
● Label paste
● The box surface is smooth and can be printed.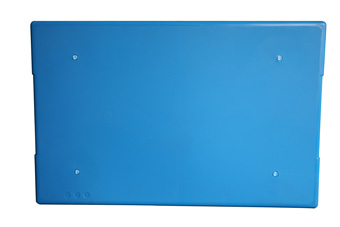 ● Frosted bottom slip.
Introduce
Plug-in turnover box is also called oblique insertion type logistics box. It is widely used in machinery, automobile, home appliance, light industry, electronics and other industries. It can resist acid and alkali, oil, non-toxic and tasteless. It can be used for food, etc. Convenient, the parts are easy to turn around, stacked neatly, and easy to manage. Its reasonable design and excellent quality. It is suitable for transportation, distribution, storage, distribution and processing in the factory logistics.
The plug-in turnover box can be used with a variety of logistics containers and workstations for various warehouses, production sites and other occasions. In today's logistics management is increasingly valued by the majority of enterprises, plug-in totes can help complete The generalization and integrated management of logistics containers is a must for production and distribution enterprises to carry out modern logistics management.