Detail map
● Assembly Storage Bins Before Separation slot
● Storage Bins label
● Storage Bins rib
● Storage Bins can change logo module
● Back-hanging Storage Bins chute insertion structure
● Storage Bins transparent label
● Back-hanging Storage Bins label and slot structure
● Back-hanging Storage Bins base structure
● Back-hanging Storage Bins Hook structure
● Back-hanging Storage Bins
● Back-hanging Storage Bins Front slot
● Back-hanging Storage Bins Upper and lower combined structure
● Back-hanging Storage Bins Upper and lower combined card structure
● Back-hanging Storage Bins Limit card point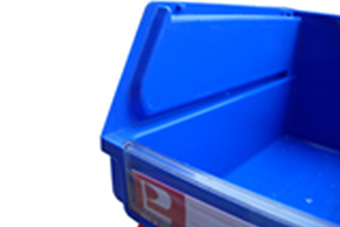 ● Back-hanging Storage Bins assembly card slot
● Back-hanging Storage Bins combination buckle
● Storage Bins medium logo
● Assembly Storage Bins plug structure and bottom logo
● Assembly Storage Bins rear separation slot
● Assembly Storage Bins Column
Introduce
1. The Storage Bins is made of polypropylene and polyethylene. It has the advantages of ethylene and propylene, light weight and long service life.
2, Back-hanging Storage Bins is equipped with dust-proof label cover, two-color label card and other accessories. Our company develops a new type of Back-hanging Storage Bins to strengthen the base structure to ensure the stability of the placement of the Storage Bins. The middle part of the Storage Bins is designed with assembly chutes, which can effectively prevent the Storage Bins from being crushed and damaged during transportation.
3, the new Back-hanging Storage Bins can also be grouped and used, the same model, the same width (LY012 and LY013, LY014 and LY015) can be used together. It has a good complement to the multi-variety and multi-standards for storing small parts at the station, and effectively saves space, reduces costs, and is neat, tidy and orderly.
4, plastic Storage Bins can be used alone, and can be used with light shelves, lockers and other station equipment, easy to combine, effectively save space and reduce costs. It is widely used in many industries such as electronics, home appliances, machinery, automobile 4S shops, spare parts warehouses, production sites, and storage centers.
5. The size error of the plastic Storage Bins is plus or minus 2%, the weight error is plus or minus 2%, the side deformation rate is not more than 1.5%, the deformation of the bottom of the box is not more than 1mm, and the diagonal change rate in the bottom of the box is not more than 1.5%. It is within the scope allowed by the corporate standards.
6, plastic Storage Bins to adapt to the ambient temperature: -30 ° C -70 ° C (to avoid sun exposure and close to the heat source), surface water absorption rate of less than 0.01%, good moisture resistance, acid and alkali oil and any solvent.
7. All plastic Storage Bins can be processed into anti-static products according to customer requirements.